* the giveaway is now closed *
---
perhaps you can tell that i kind of have a thing for the awesome Of a Kind, this is our fourth giveaway together! i'm always excited to see what amazing new edition they are going to release next (currently eyeballing these earrings). and even more exciting, they have just launched Of a Kind Collections, where you can shop pieces from the full collections of designers they've worked with – including Ace & Jig, Dusen Dusen, Eayrslee, and K/LLER COLLECTION.
today you can enter to win this beautiful blue leather Duane Park Messenger bag made especially for Of A Kind by New York based label IIIBeCa by Joy Gryson.
This is one of those bags that is almost too good for words. Made from sturdy blue-gray leather in a classic, flap-front shape, it has the sort of details—white edges, lime lining—that'll make you wanna carry it always. But if you DO want to switch things up, you can snap out its lining and move the entire contents to another carryall.
you might say that Joy is a bit of a bag expert, as she used to design accessories for Coach, Calvin Klein and Marc Jacobs before starting her own label. you can read all about what she keeps in her own bag here, and don't miss her food guide to Tribeca – i wish i'd had this in my back pocket on our recent trip to NYC. to enter:
(1) sign up for the Of a Kind newsletter on the giveaway page
(2) leave a comment telling me one thing you always have in your bag, no matter what. (mine is this)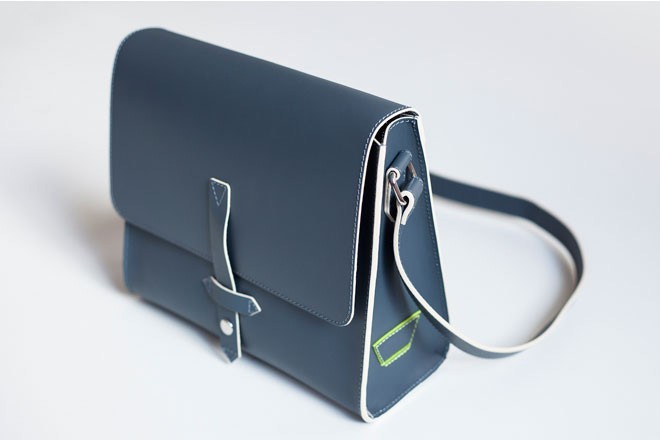 if you've already subscribed to their newsletter you're still guaranteed an entry – just be sure to leave a comment! the giveaway is open to anyone anywhere in the world as Of a Kind offers international shipping. readers outside the US must please note that you may be subject to your country's customs charges / import duties upon arrival.  the giveaway ends on Monday 18 November, and the winner will be randomly selected in a lucky draw.