Dinanda Nooney was a photographer from Manhattan who documented the lives of families living in Brooklyn from 1978-79. she donated the entire collection to the NYPL Digital Gallery in 1995, and i found myself looking through every single photo with my morning coffee yesterday. it amazes me that so many of these homes could in fact be the interiors of modern day Brooklyn apartments – the furniture, the plants, the bike racks (!), studios of artists & architects and designers…
Nooney initially became interested in the borough in 1976, while working as a volunteer for George McGovern's presidential campaign. Two years later, she used the connections she had made in order to gain access to rooftops and other vantage points for a survey of the borough. She soon became more interested in the people she met and began photographing families in their homes. Many of these sitters then recommended other potentially willing subjects. The portraits that emerge are striking in their attention to the details of architecture and décor, which reveal just as much about the subjects as how they choose to pose themselves for Nooney's camera.
Barbara Rothenberg. 135 Eastern Parkway, Prospect Heights
Jerry & Linda Schick. 188 Washington Ave., Fort Greene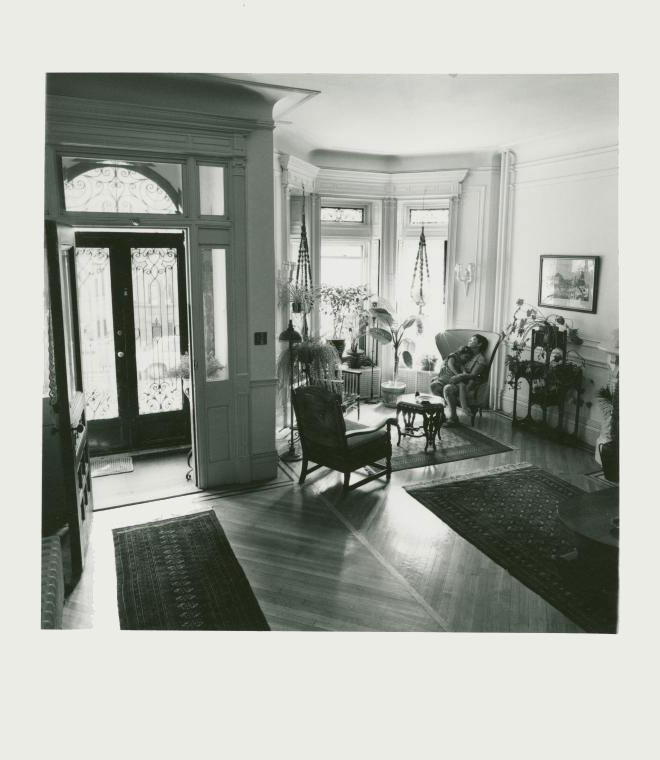 Geoffrey & Tobi Needler. 51 Montgomery Pl., Park Slope
Ernie & Lucy Bitzer. 300 Washington Ave., Clinton Hill
Spencer & Rosalyn Depas. 227 Cumberland St., Fort Greene
Bill & Sasha Saari. 104 Prospect Pl. Park Slope
Nat Lamar. 60 Tompkins Pl., Cobble Hill
Russell McCombs. 315 Eastern Parkway, Prospect Heights
Suzanne & Mike Zufolo & daughters. 480 13th St., Park Slope
Fran Orans. 4715 Surf Ave., Coney Island
Tim & Carol Sullivan. 284 Clinton Ave., Clinton Hill
Joseph & Mary Merz, architects. Daughter Julie & cat. 48 Willow Place, Boerum Hill
Bill & Lucy Sikes. 231 Washington Ave., Clinton Hill
Allen Wiener & sons. 331 President St., Carroll Gardens
RELATED POSTS...