those amazing ladies at Of A Kind are kindly offering another awesome giveaway! this is our fifth together, and i think that 5 might be our lucky number. this time round i got to pick some unique, handmade jewellery pieces that i personally love.
everyone has their way of accessorising. i like bracelets & necklace (the bolder the better), yet seldom wear earrings unless i'm feeling fancy. i also tend to wear one thing at a time, but i know girls who wear everything at once which i think is awesome.
today you have a choice of either a necklace, a pair of earrings, a cuff or a ring – all one Of A Kind, of course. to enter:
(1) leave a comment with your pick (that's the one you'll win!) & tell me how you like to accessorise
(2) enter at the Of a Kind x Miss Moss entry page! you'll be signing up for their newsletter, which is the best.
this is what you're dealing with: 1. the Golden Ardor Necklace by Highlow Jewelry, a beige clay wonder that can hang with every neckline in your closet, thanks to its adjustable cord. 2. these Mini Quartz Studs by Giant Lion, two diamond-cut quartz stones in a minimalist gold setting. 3. the Ingrid Cuff by Dream Collective, a handmade brass & enamel piece with a cheery motif. 4. the White Diamond Pharos Ring by Steven Shein, probably the most unique ring i ever did see.
you stand a chance to win ONE of the picks in my jewellery edit. so choose wisely…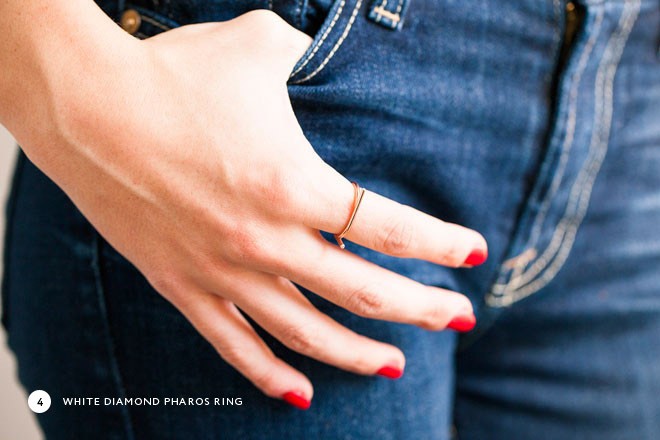 if you've already subscribed to their newsletter you're still guaranteed an entry – just be sure to leave a comment! the giveaway is open to anyone anywhere in the world as Of a Kind offers international shipping. readers outside the US must please note that you may be subject to your country's customs charges / import duties upon arrival. the giveaway ends on Monday 10 March, and the winner will be randomly selected in a lucky draw & notified via email.