Stellenbosch is well know for its beautiful historic buildings (ranging from the cape dutch through to the victorian town houses). what i find unbelievable is how many of them were torn down in the sixties & seventies to build flats, office blocks and the like. here's a small retrospective of some of the bad (and some not so bad) before and afters.

my dad is an urban designer based in Stellenbosch, my home town. these photos are from his office's archives.
corner of bird & church streets (luckily there's a Vida here now, instead of a Mr. Video)
corner of andringa & plein streets
corner of mill/bird/church streets – the entire block to the right of the present building (above) was torn down (and subsequently replaced by a supermarket). i'm having trouble finding pictures of the original buildings that were in this area, but i know that it was known as Mill Square.
this is a bit more difficult to see, but the right hand corner of the original photo is where the new building stands today
in the before, the victorian building on the right was torn down & replaced with the brownish building 2nd from the corner (the original corner building is not visible in the before picture)
1901 vs now
on the right hand side of the corner of ryneveld & plein streets is the ABSA building as it stands today. the original building was torn down in the fourties (second picture), then on top of that they built a men's res for the university sometimes in the sixties (third picture). that was subsequently torn down  and a new building was built in 1995 – emulating the original facade.
Herte Street has always been one of the prettiest streets in stellenbosch (for me) – except that someone decided it was a good idea to replace one of the the original cape dutch buildings with this block of flats that now sits inbetween a victorian town house & the cape dutch slave cottages that run down to the corner.
the original building was torn down in the seventies because the town council & someengineers decided it was a good idea to widen Market street in order to help with traffic congestion. luckily they stopped with the street widening about 800 metres down the road, just before they were supposed to tear into some more historical buildings (you can still see where the street immediately becomes narrower again, next to the Stumble Inn Backpackers). unfortunately the original old building was a victim, and now they're using the site for a builder's warehouse.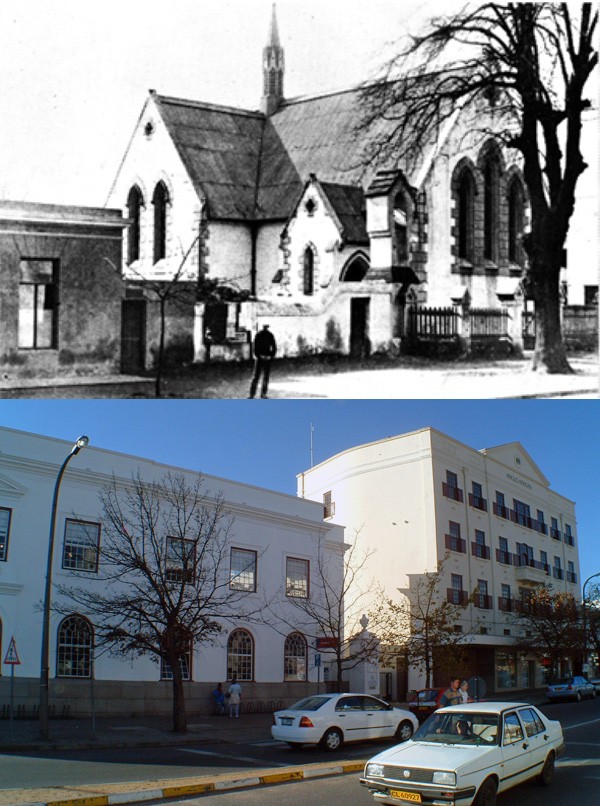 probably the saddest example, the little church they tore down to build that huge office block (in plein street).
sometimes progress isn't progress at all.