wow where to begin with this post! i thought about maybe splitting it up into three sections, as our trip essentially covered Lake Manyara & the area around Karatu, the Ngorongoro Crater, and the Serengeti National Park – but i am far too impatient to draw it all out over a few days. just not my style. so of course you are about to be bombarded with a whole lot of photos, information, and me waxing lyrical about how AMAZING IT ALL WAS.
first, a bit of background: Anton's mom Lynne has always wanted to embark on an epic road trip through Africa. in 2012 Anton's dad passed away suddenly, and in the months that followed Lynne decided to sell their cars and buy a 4×4 in order to pursue her Africa road trip dream. many months of planning followed, much happening in everyone's lives in the interim, but finally on May 26 this year she set off. her plan was to drive from Cape Town to Mozambique, Malawi, Tanzania, Zambia & Botswana.  a month later we flew into Arusha, Tanzania to join her for the Serengeti & Ngorongoro leg of her trip – and this is where this post kicks off.
i'm going to get right into our trip, and share all the nitty gritty details at the bottom of the post. so if you'd like to know more about travelling in Tanzania, how to plan a safari and all that stuff – scroll down to here. if you have any questions about any aspect of this trip please leave a comment or send me a mail.
the photos in this post were taken with my iPhone 6 + a Nikon D7000. edited in Lightroom with VSCO.
Karatu & Lake Manyara
we arrived late at Kilimanjaro airport, got picked up by a taxi driver (who was basically just some guy in his beat up car) and arrived at Arusha around 1am. we left early the next morning and drove straight to Karatu where we'd be based for the next 2 nights. we camped at a great place called Kudu Lodge – which has the best swimming pool ever FYI – and from there we did a day trip to Lake Manyara.
Lake Manyara is like the baby sister of the Tanzania National Parks. it is unbelievably beautiful, though – with landscapes ranging from dense tropical forests to the wide expanses of the lake shore. it's famous for their tree climbing lions, though honestly you are more likely to see these in the Serengeti. you will see a ton of baboons, flamingos and other waterbirds, and giraffes, though. more giraffes than i have ever seen in one place. we had coffee and lunch by the lake with curious giraffes watching us from afar. it was amazing.
you can pretty much do most of the park in a day but there are also a few camping spots and lodges to stay in, if you're so inclined. it's definitely the more chill park of the three we visited, with the least number of tourists.
Ngorongoro Crater
you can read all about the crazy administrative process we had to slog through to access the Ngorongoro Conservation Area as self-driving tourists at the bottom of the post. for now i can just tell you that it is an unbelievable sight to stand at the rim of the crater and look down at the expanse below you. the crater was formed when a volcano erupted 2-3 million years ago, leaving behind the world's largest inactive, intact, and unfilled volcanic caldera. highlights in the crater: seeing our first lions, as well as spotting a black rhino. it's also unreal to see the local Maasai children herding goats and cattle amongst the crater's resident wildebeest and zebra.
Maasai kids herding inside the crater
Hippo pool picnic spot
There are only two picnic spots inside the crater, one close to the Lerai forest and another at the hippo pool (seen above). so plan around these if you need a pee break! i wouldn't advise stopping and having a quick whizz next to your car, mainly because there are so many safari vehicles zooming around the place that you're bound to have a bunch of tourists witnessing you relieving yourself. the picnic spots have proper toilets, but no loo paper when we were there.
Camping at Simba Campsite. more info at the bottom of the post.
Serengeti
Serengeti was my absolute favourite. i could have stayed for weeks, if only our time & budget allowed. we arrived at the Naabi Hill Gate, after driving 3 hours through the Ngorongoro Conservation area. within 20 minutes of driving through the gate we saw a pride of about 15 lions. and too many elephants, giraffes, wildebeest, antelope & zebra to count. and a SERVAL. in the daylight. this was just a taste of what was to come. we saw 35 lions in 3 days, half of them up in trees. the Serengeti is a place like no other. i have seen tons (literally) of elephants in my life, but to see them roam open plains like this is something else.
The migration in progress
Spot the leopard
Pimbi Campsite. more info about camping at the bottom of the post
probably my favourite moment from the entire trip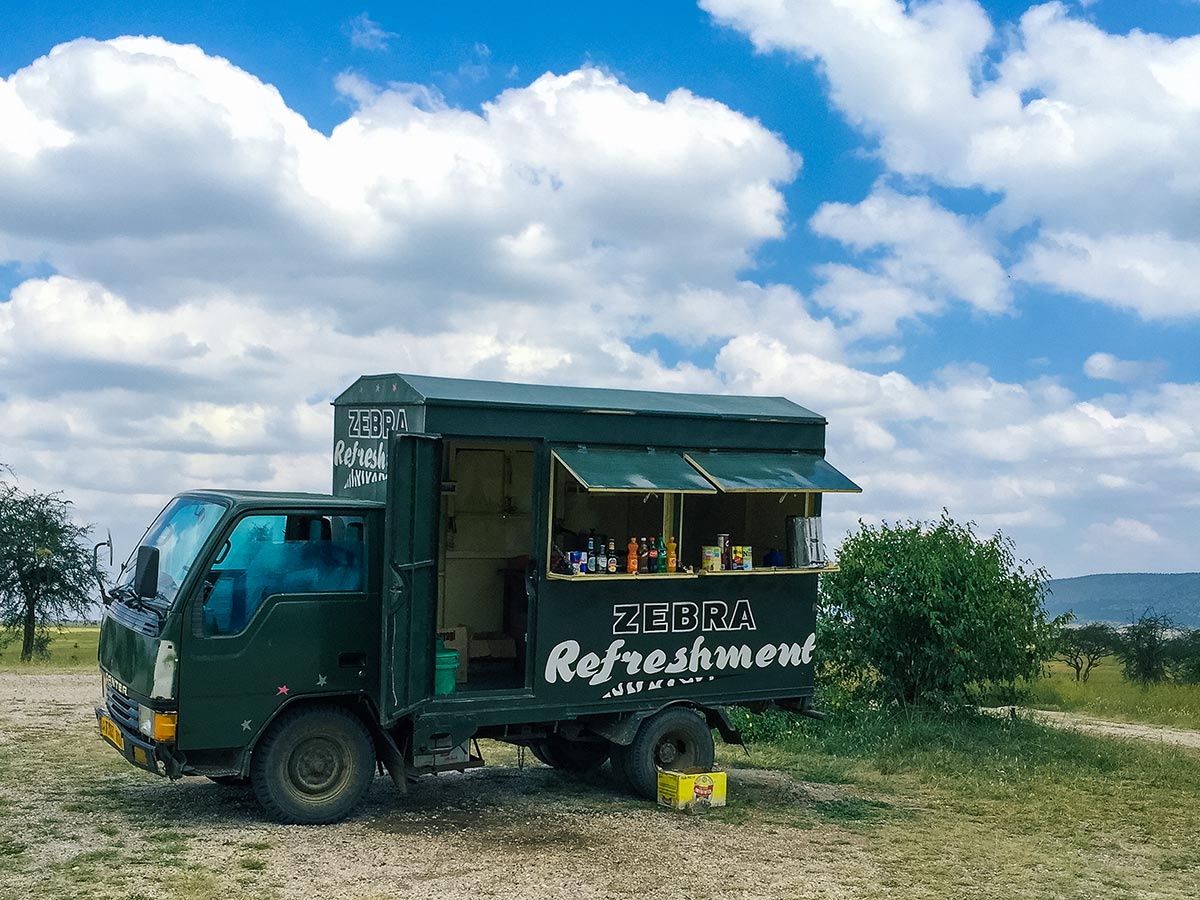 last place i expected to see a food truck
not sure if this leopard was pregnant or just well fed
a fresh kill, 2 km before our car broke down…
can you see all six lions?
sunset at our campsite
Travel Tips
planning a self drive safari through Tanzania is not something to be sneezed at. i found it quite difficult to find helpful information online, and had to dig around in various old travel books and contact helpful people to get an idea what to expect. the reason being that most people who go on these safaris go on organised, catered tours. there are hundreds of Safari tour companies who operate in Tanzania, and they cater to foreign tourists who want anything from a "budget" to a luxury experience.
i say "budget" because this trip is not cheap. not for South Africans, anyway. if you have dollars or pounds or euros then this might be easier on your pocket (yay!) but even the budget options will set you back more than you might expect. the reason being that all the big stuff is included: your car travel, your guide, your accommodation (whether you're camping or staying in a lodge), your food, and your admission fees to all the parks.
we were in a privileged position where we had the use of our own vehicle, a rare thing if you're planning a safari in Tanzania – mostly because it's not easy to drive your  car all the way there, not unless you live in the area, or you're planning an epic road trip like Lynne. you can of course fly in and hire a car, but the cost of that, as well as getting all your equipment you need, will probably end up being as much as a tour. so i understand why the safari tours are the preferred way to go.
Ngorongoro Entrance Fees
another reason why safari tours are great is because you don't have to deal with the bureaucratic hassle that is the parks admissions system. it is unreal how complicated it is! you have to pay per day, per person and per vehicle, for access to the parks – that aspect is pretty normal. but to get into the Ngorongoro Conservation Area you have to use their smart card system… oh boy.
due to fraud and other nefarious activities you can't pay in cash or card at the gate of Ngorongoro. you have to go to a bank, either in Arusha or Karatu, work out how long you plan on being there (as you have to pay per 24 or 12 hours) pay the full amount, then go to the office in Karatu, present them with a slip from the bank, and only then do you get your smart card. the moment you "swipe" your card the clock starts ticking down. which means that if you enter the park at 10am, you have to be out the next day at 10am.
if you plan on driving through Ngorongoro to get to Serengeti – which is what we did, and is actually the only way to get there from the east – you have to take into account that you need to be out by a certain time. if you go one minute over your scheduled 24 hours you get charged an extra day. if you don't have enough money on your smart card to make the return journey, then you can't get out of Serengeti through Ngorongoro – and you have to divert west and exit through another gate to go the long way round back to Arusha.
Camping in Ngorongoro
we spent the night on the crater rim, camping at Simba Camp. this is the most popular place to camp in the Ngorongoro conservation area. i had read horror stories about the campsite before we left – that it's overcrowded, noisy and the facilities are terrible. we found the opposite. maybe we had it on a good night, but the place wasn't too busy, and the ablution blocks were very well kept & clean (and there were even hot water showers if you hit them at the right time). one thing i can say is that it is COLD at night. freezing, even. if you plan on staying here then bring thermal underwear, and wear all your layers when you go to bed!
there are a few armed guards wandering around the perimeter, with automatic rifles. so if you're nervous about wild animals i guess this should make you feel safer. but really, don't leave your tent after dark. there was an elephant drinking from one of the water tanks the night we were there.
Camping in the Serengeti
the drive from Ngorongoro to Serengeti takes about 3 hours, on one of the worst roads we have ever driven. it was like driving over corrugated iron for 3 hours. not chill. but as i said, and as the photos show you, it's not even a blip on an otherwise awesome experience. except for the toll it takes on your vehicle, of course. if you were more swish you could just fly directly into the Seronera airstrip. When you arrive at Naabi Hill gate you need to essentially sign out of the Ngorongoro Conservation Area and then sign in to Serengeti, where you pay a new set of fees. here you can pay with a credit card, not nearly as complicated as Ngorongoro. they'll want to know how long you plan to stay, as you have to pay per day and then also pay for your camping (if that's your intention).
there's no way to "reserve" a camping spot, you just pitch up and then choose one of the camps at your leisure. you can actually just drive around and visit all the campsites, as they are all situated in the same area, then pick your favourite (this is what we did). we chose to camp at Pimbi, a smaller campsite – so we wouldn't have to potentially share with a huge group of overlanders. it also had an amazing view over the savannah, which lends itself to many sunrise and sunset opportunities, as you can see by the photos.
the campsite ablutions are basic, with cold showers and flushable toilets. the loos and showers are cleaned every morning by a team that seems to service the park, and every night a truck with refreshments pulls up – so you can buy cold beers, overpriced wine and bottled water. you can't drink the water in the park, even if you treat or boil it (we saw it being pumped out of a nearby river – so trust me on this one).
here's one thing we knew about camping in the Serengeti: it's unfenced, so you need to be cautious. unlike Ngorongoro Crater there are no guards, and no one to protect you with guns. the number one rule is don't leave your tent after dark, especially if you're alone. at Pimbi there was a leopard spotted around the water tanks the nights we were there, and we had hyenas snuffling around our tent while we were sleeping. it's also of course completely normal to hear lions, hyenas and other predators at night. we even had an entire herd of wildebeest migrate through the camp one night. it was amazing!
i can't comment on a Tanzania safari lodge experience because we camped all the way through our trip, but there are of course tons of amazing places to stay. if you want to really splash out i'd look at Singita (which is like staying at The Ritz when you're in Paris, i'm guessing!)
Money
you can pay for most everything in American dollars, so bring some cash with you. the local currency is the Tanzanian shilling, and everything is cheaper if you pay with it vs using your dollars. you can easily draw cash at any ATM in Arusha or Karatu. you get around 2000+ shillings for 1 USD. we had to pay for the car to be fixed in Arusha and it cost 1,5 MILLION shillings (Dr. Evil voice). which is pretty cool to hold in your hands, i must admit.
Swahili
do yourself a favour and learn a few choice greetings in Swahili. not only will it endear you to the locals, but it is such a cool language to learn. Jambo. hello. Habari yako? how are you? Nzuri, asante. Fine, thanks. Asante sana. Thank you very much. Karibu. You're welcome. don't stress though, everyone can speak English.
Tsetse flies
this deserves its own special mention. if you have experience with these pesky flies, you'll understand. they bite, and it hurts. basically they are attracted to dark colours – especially blue and black (think about what a buffalo and a wildebeest look like? exactly). we found that wherever there weren't a lot of animals there were tons of flies around our car. and inevitably a few would get in. i don't know how, they were like ninjas these flies. Lynne got bitten quite badly and had a terrible allergic reaction to all the bites. insect repellant also doesn't work. the best is just to wear light coloured clothing, nothing too bright or dark – and keep a fly swatter in the car!
[kindred-recipe id="40438″ title="Tanzania Packing Tips"]
Our Route
Day 1: Arrive Kiliminjaro Airport (A) drive to Arusha (B)
Day 2: Drive to Karatu (C) stay at Kudu Lodge & Camp (2 nights)
Day 3: Day trip to Lake Manyara National Park
Day 4: Drive to Ngorongoro Conservation Area (D) stay at Simba Campsite (1 night)
Day 5: Drive to Serengeti National Park (E) stay at Pimbi Campsite (3 nights)
Day 8: Drive back to Arusha, stay at The African Tulip
Day 9: Fly back to Cape Town
if you have any questions about this trip drop me a line!