PLEASE NOTE THIS IS

NOT A BOOKING WEBSITE

!
I do not have any affiliation with any of these apartments, you need to click through to each one and contact the owners through Airbnb to book accommodation. 
---
we have been toying with the idea of possibly renting our place on Airbnb over the summer holidays, as we'll be out of town for 2 weeks. so i've been cruising around checking out other listings to see what people are offering in this beautiful town of ours, and damn if there isn't a veritable smorgasbord of amazing places to stay!
i often have people asking me for recommendations of hotels to stay in Cape Town, and while i can tell you all about the nicest areas, and the best places to eat and shop, i haven't stayed in any hotels myself (i mean, i live here). personally when i travel i look for places that are self-catering, that's why Airbnb is totally my jam. also, it's cheaper.
and if you're from the States or the UK or Europe let me tell you this: your dollars, pounds and euros are going to stretch FAR here. have you seen the exchange rate lately? right now you can have a great 3 course meal at a top restaurant for $25 per person. you can drink a seriously excellent bottle of wine for $10. you can have a great coffee for $1.50. do i need to go on? not to mention it's one of the most beautiful places on the planet.
okay, let's do this! here are 20 great Airbnb places in Cape Town, organised by suburb – with a little bit of info about that area. you can see the entire list of my favourite 50+ places here. also be sure to check out my Cape Town City Guide, which i am always updating as i eat my way through the city.
City Bowl Suburbs
Tamboerskloof, Gardens, Oranjezicht, Higgovale & Vredehoek
if you really want to feel like a Capetonian then stay in one of the famous city bowl suburbs. there's nothing quite like waking up at the foot of the mountain and basically having the entire city at your fingertips. there's a reason why they crammed so many houses and apartment blocks in this tiny bowl of a neighbourhood – cause it's amazing.
3 bedrooms, sleeps 5. "An oasis in the city overlooking Table Mountain. It is situated in one of the most exclusive suburbs of Cape Town with beautiful views." and you'll feel like you're in an episode of Mad Men!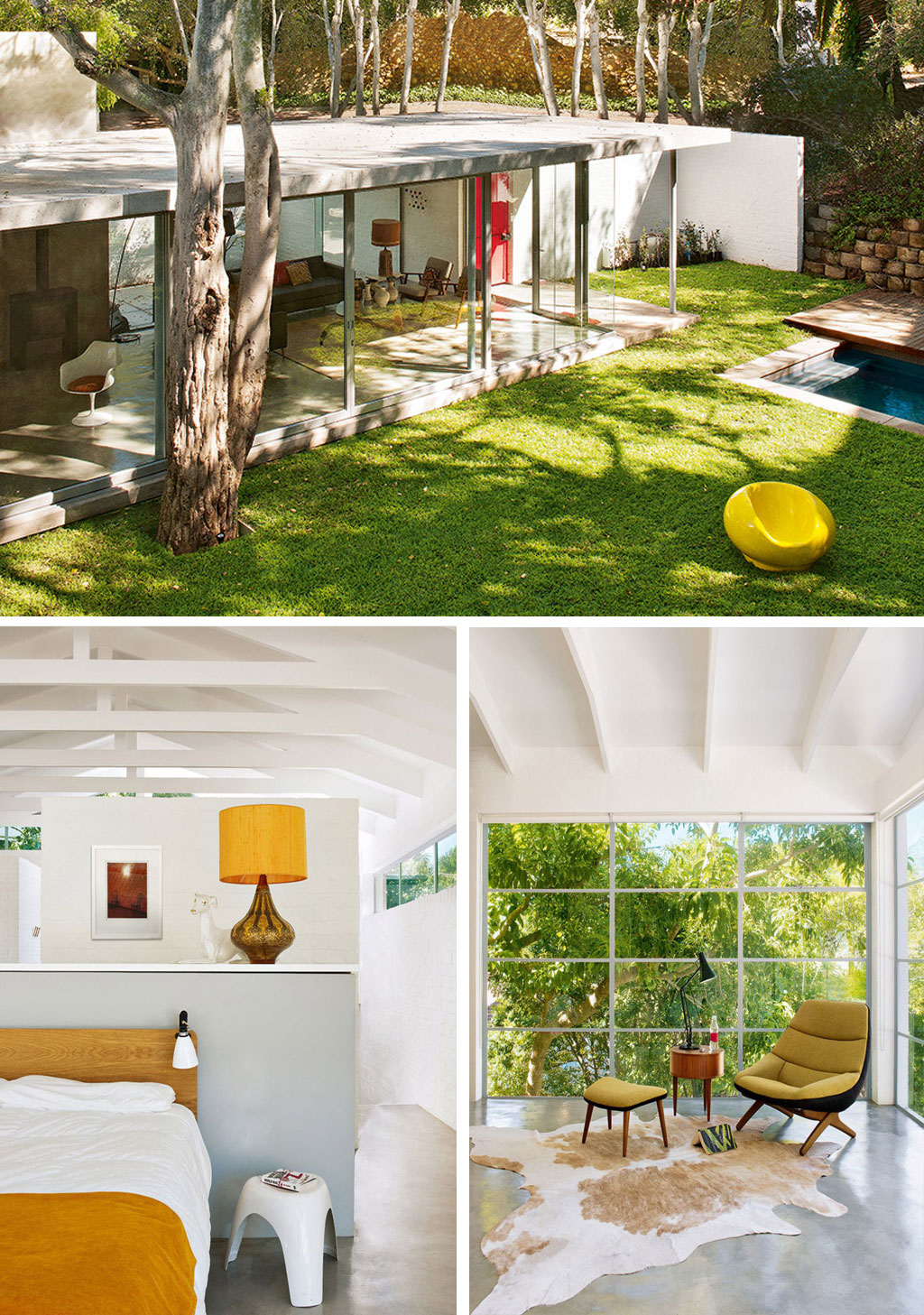 3 bedrooms, sleeps 6. "A perfect location nestled at the foot of Table Mountain, 5 minutes away from the famous beaches of Camps Bay and Clifton and the popular restaurants on Kloof St."
1 bed, sleeps 2. "Modern, luxury garden apartment with stunning views of Cape Town, the ocean and Lion's Head is private and fully renovated."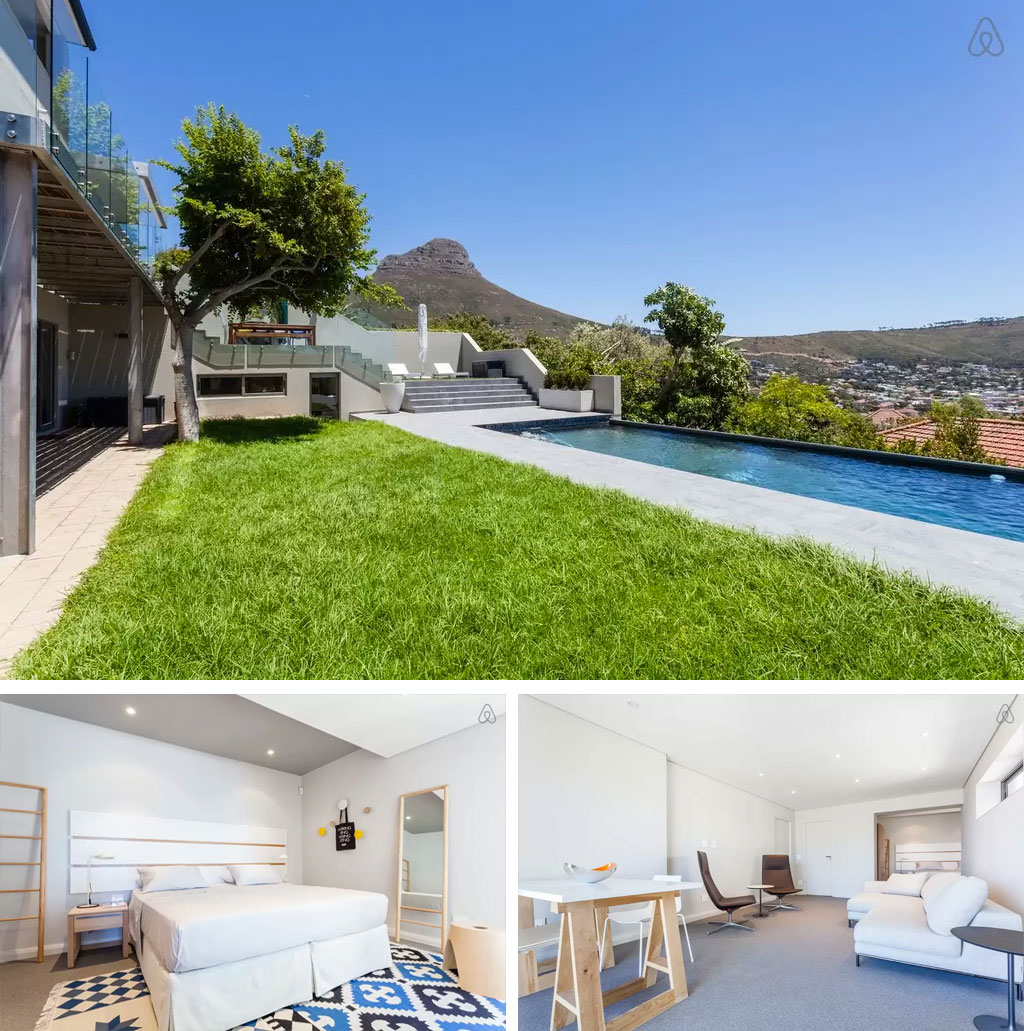 "A beautiful two bedroom, two bathroom house, situated in a quiet cul-de-sac walking distance from the city centre."
Cape Town Central
City center living
central Cape Town has had its ups and downs – and right now it feels like it's on the up. there are so many wonderful old buildings in the centre of town, with excellent views and central location being the main draw card. the historic Bo Kaap is wonderfully colourful & cultural. i would not, however, advise wandering the inner city streets alone at night.
1 bed, sleeps 2. "A unique double-volume micro loft centrally located in the oldest part of Cape Town, with a comfy sofa, mezzanine bed & a small balcony looking out to Table Mountain." – i have blogged about this apartment before!
"Double room in the Bo Kaap. Situated in the historical Dorp Street. 5 min walk to Central Cape Town."
1 bedroom, sleeps 2. "With Table Mountain as your backdrop you can enjoy the city at your door step and the beach and Table Mountain as your garden." – that roof deck alone is worth it.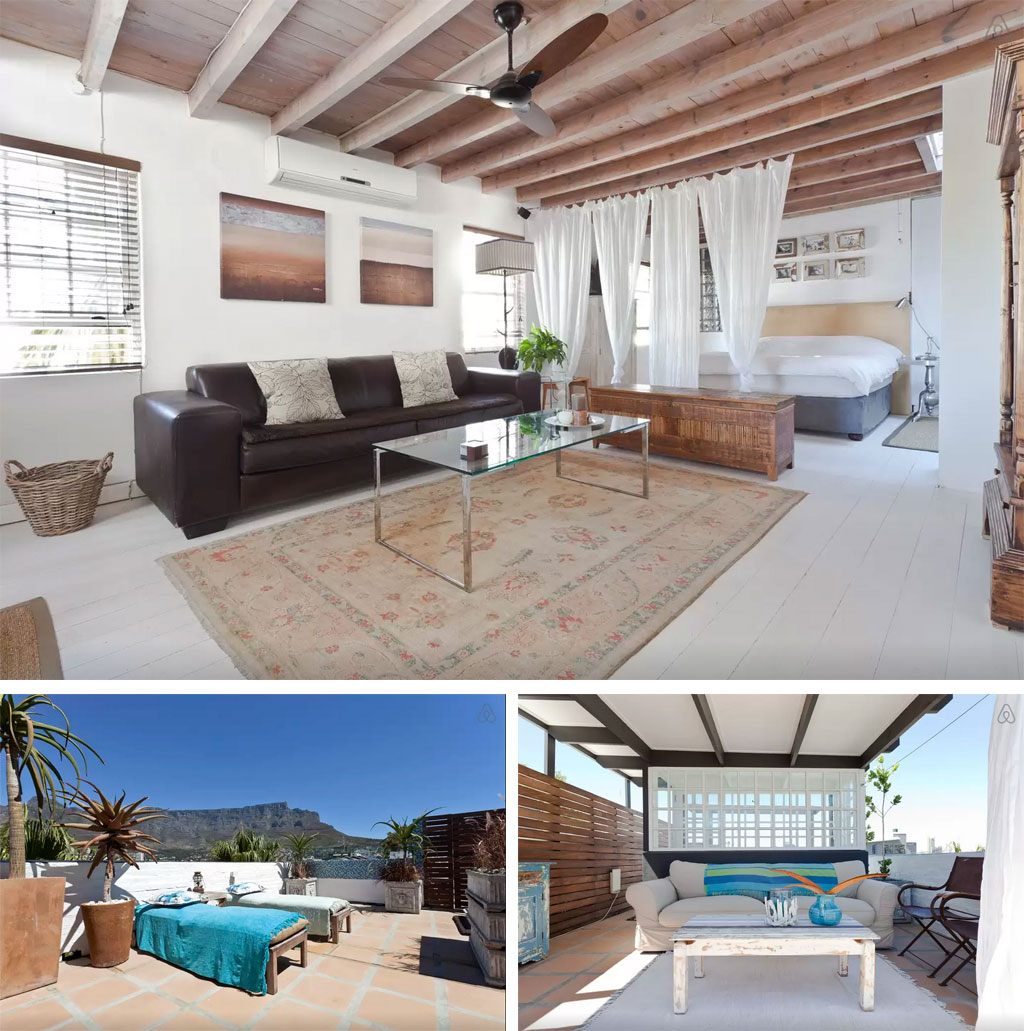 Green Point, Mouille Point & Sea Point
the suburbs by the sea
i personally love Sea Point because, well, we live here! it's such a nice mixed neighbourhood and right by the promenade – which stretches for kilometres all the way from Mouille Point to Bantry Bay (just before you head up the hill towards Camps Bay). you can stay in Green Point if you want to be closer to town, Mouille Point for the views and Sea Point to be close to tons of restaurants, the popular Sea Point swimming pool and several beaches that are super popular for after work tanning in summer. also, here's a secret: Sea Point is the least windy place in Cape Town.
3 bedrooms, sleeps 6. "Situated on the famous Sea Point promenade, nestled behind a protected park with views of the Atlantic Ocean and Sea Point swimming pool." – this is one of my favourite apartment buildings in Cape Town.
1 bedroom, sleeps 2. "Top floor apartment in an old 70's style block. On Ocean View Drive, upper Sea Point. 74sqm with an outside deck & 180 deg uninterrupted sea views." – such a fun, colourful apartment.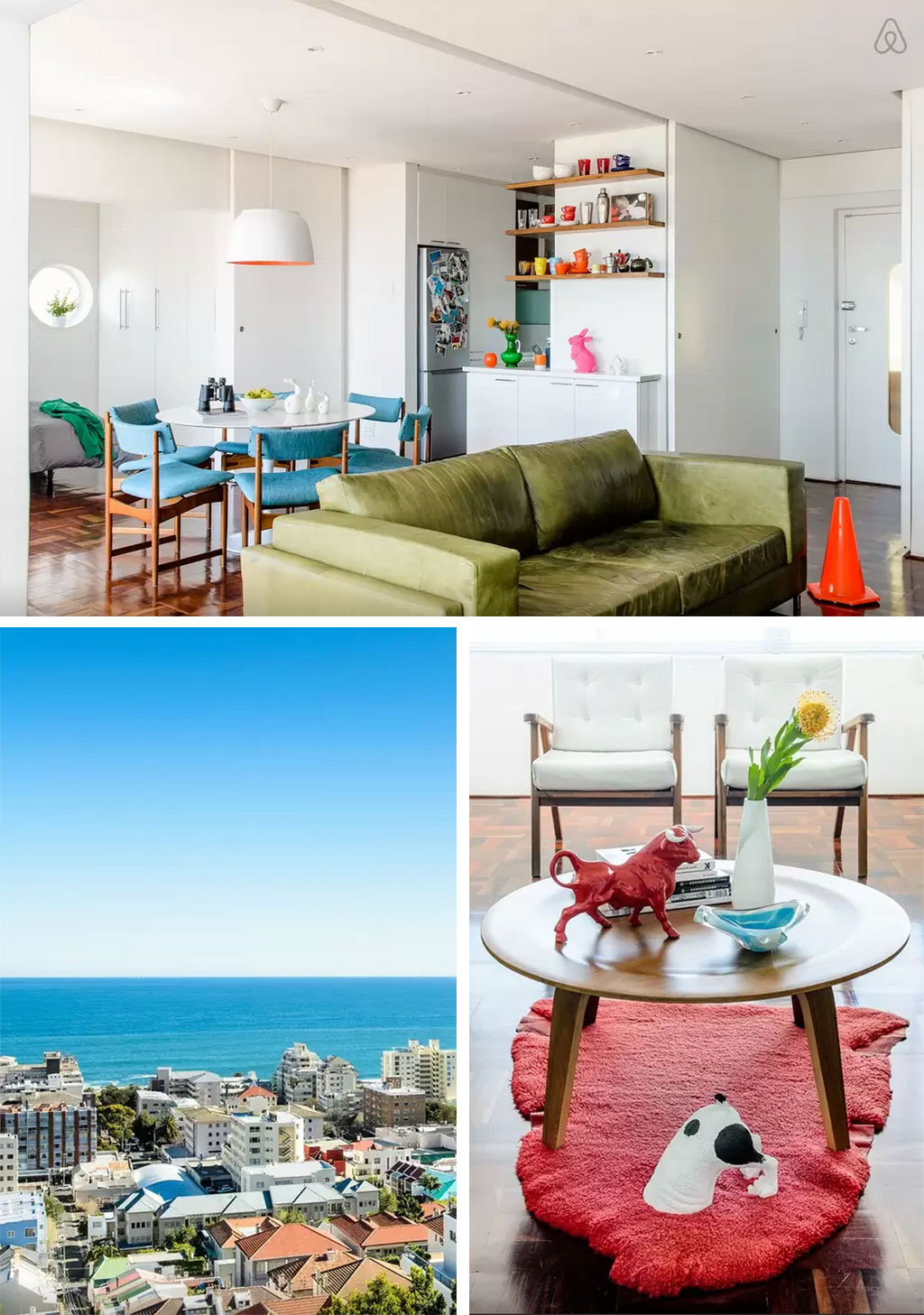 2 bedroom, sleeps 4. "Step off a quiet street at the bottom of the hill into a young designer's city retreat."
Camps Bay, Clifton & Bakoven
the cream of the crop
this is millionaire's mile, without a doubt. if beaches and views and luxury are your thing – and you don't mind paying top dollar for it – then this is the place. i'm not the hugest fan of this area in summer, because it becomes a bit of a circus of tourists, but you can avoid the pain of sitting in traffic by taking the MyCiti bus or Uber in and out if you're into going to the beach. or you can just stay in your private villa and never leave, whatever floats your boat.
4 bedrooms, sleeps 8. "Fantastic villa with magnificent beach, mountain and sea views. " – i picked this place based on the unreal location (the interior is kinda, uh, strange?) it's not that expensive in winter, much pricier in summer.
9 bedrooms, sleeps up to 19. "3 level open plan house nestled between table mountain & lions head over looking Atlantic Ocean, walking distance from Camps Bay beach & restaurants." – expensive, but if you can get a bunch of people to chip in you might be able to afford it? also the property type is defined as a "castle" ?
1 bed, sleeps 2. "On first beach Clifton. It has views of all four Clifton beaches and the Twelve Apostle Mountains."
3 bedrooms, sleeps 6. "Beach bungalow with a granite seawall on two sides has an uninterrupted view across the waters in front to Lions Head." – situated right on Beta Beach, this is probably, definitely, certainly the most coveted spot in all of Cape Town. plus, who doesn't love a giant boulder in the bathroom?
Woodstock
a good budget choice for those into design & cool people
Woodstock has has become a bit of a mecca for cool young people (read: hipsters) who live, work and create in this still pretty affordable suburb. and while it can be a bit rough around the edges, there are some sweet residential areas as well as more urban NYC style lofts to choose from. easy on the wallet, too.
studio, sleeps 2. "My modern and comfortable one bedroom apartment with 5m high ceilings has a true city feeling! It comfortably fits two and is centrally located in Woodstock, just one block from the Woodstock Exchange."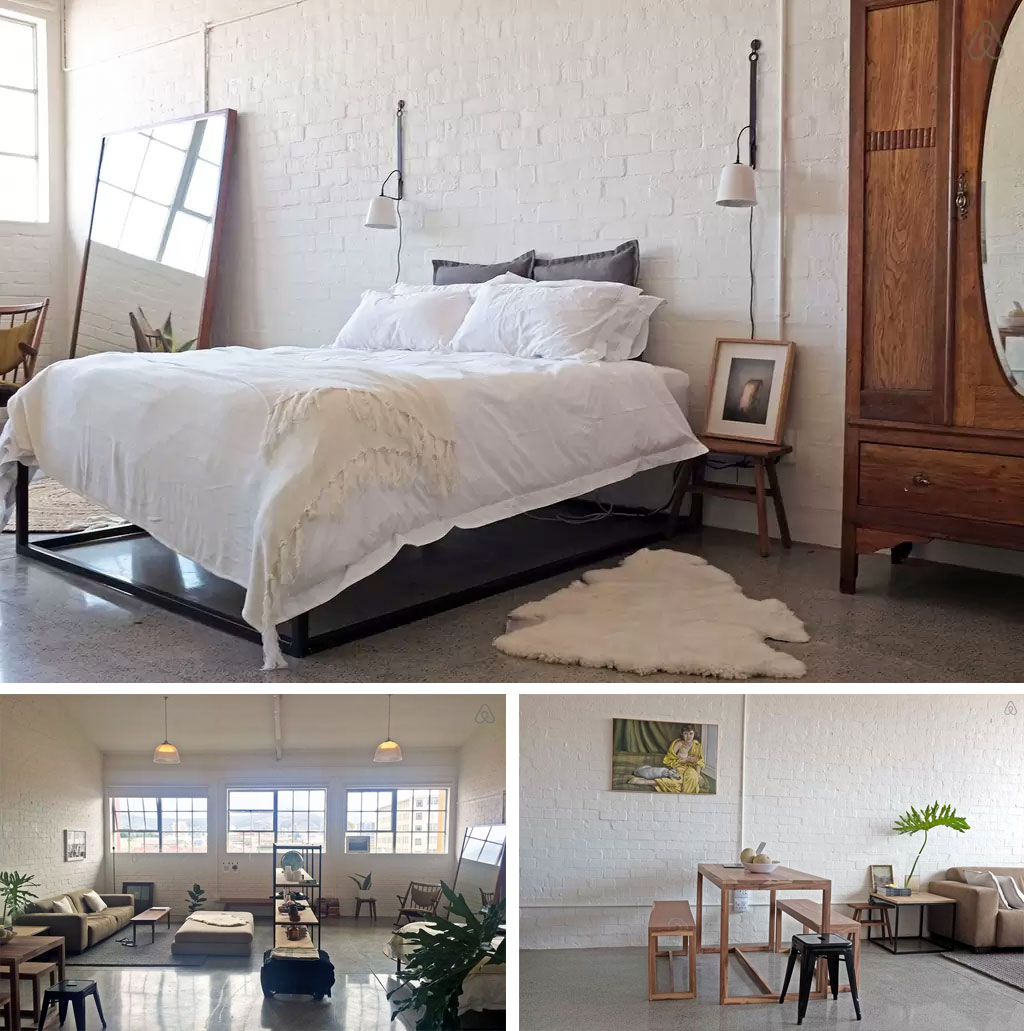 1 bedroom, sleeps 2. "This huge open plan loft is newly renovated and carefully furnished with local design. Enjoy amazing views and a trendy area in this generous space."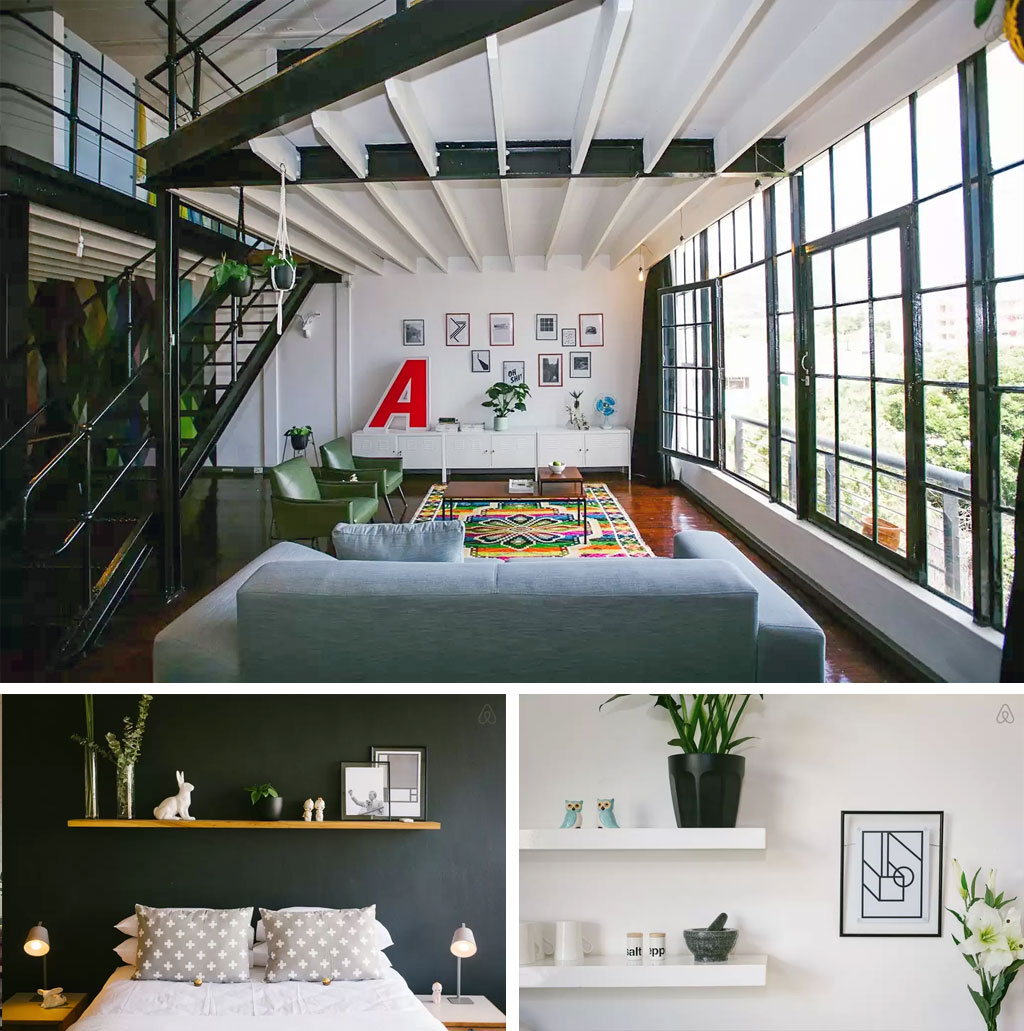 Further Afield
Llandudno, Kommetjie, Simon's Town & Kalk Bay
if you feel like you want more of a holiday, away from the hustle and bustle of the city centre, you can enjoy seaside views at any of the other costal suburbs of Cape Town (sometimes known as "the other side of the mountain") Llandudno is closest, with probably the best beach in my opinion – and nowhere near as crowded as Clifton and Camps Bay. then as you venture further away, and closer to the Cape Point nature reserve, you have areas like Hout Bay, Noordhoek, Kommetjie etc. round the tip you'll find your way to Simon's Town, Kalk Bay and Muizenberg. all within 20-40 minutes of the city bowl (depending on traffic).
1 bedroom, sleeps 2. "Beautiful French Provencal stone cottage set in private indigenous garden overlooking Llandudno beach." – this is a well priced little cottage for the views, and to take advantage of Llandudno beach.
4 bedrooms, sleeps 8. "Luxury beach front villa with direct beach access and sparkling pool. Amazing sea and mountain views with great outdoor entertainment areas protected from the wind."
2 bedrooms, sleeps 4. "Nestled at the base of Mt. Pleasant in Simon's Town and boasts panoramic views of the harbour basin, naval base and False Bay."
2 bedrooms, sleeps 5. "A beautiful renovated cottage tucked away in the heart of Kalk Bay village. Five minutes from perfect swimming beach, restaurants and shops."
these are not your only options for great Airbnb getaways in Cape Town – be sure to check my entire Cape Town Airbnb wish list, and of course search yourself to suit your budget & needs. enjoy your stay in our fair city!