i was lucky to discover Elize Strydom just as she was about to embark on the South African chapter of her ongoing photography project Small Town Girl – thanks to Jessica for tagging me in her first post. Elize is Australian, but has roots in SA (as you can probably tell by her name ?) so i was really interested to see the stories that would unfold.
i loved following along on Instagram as she spent time with 6 South African girls in a variety of places like Jouberton, Botha's Hill, Nieu-Bethesda, Graaff-Reinet, Hartenbos and Eendekuil. and like all great documentarians, with every photograph Elize brought a new perspective to my own country.
Small Town Girl is a visual journey of remembering and discovery. As I walk alongside teenagers in Australia (where I grew up), South Africa (where I was supposed to grow up) and the USA (where I wanted to grow up) my own memories of adolescence are both validated and challenged. I'm fascinated by ordinary young women living in out of the way places. I want to know who they are and share in their experiences and I want to capture them in an intimate and poetic way.
Small Town Girl has subsequently been featured all over the online world. i've kept in touch with Elize since, who kindly provided some exclusive unseen photographs from her SA trip. and though i usually don't do interviews on the blog i simply had to ask her a few questions about this, now one of my favourite photography projects.
14 year old Rebecca tries to catch a crab with a piece of meat tied to a string (she caught two!) 
We rode our bikes past an old cricket ground and along a forest trail that opened out into a light-filled clearing. After crossing a suspension bridge, 14 year old Rebecca showed me the creek she swims in during the summer time and a natural spring that flows through the whole village. She led me to a yard full of prickly pear trees and pointed out a house that had been converted into a castle. Rebecca jumped a fence to say hello to some horses and waved to family friends as they drove by on one of the village's dirt roads. She showed me her Nieu-Bethesda: her haven and her home.
How did you come to stay with all the girls that you have photographed?
I met them in a few different ways but the majority of girls responded to 'call outs' on Twitter/Tumblr/Facebook. I just put up posts saying 'Hey I'm coming to your country to do this project. If you're a teenage girl living in a small town and wouldn't mind being photographed for a week then get in touch!' It sounds a bit risky, I know. A lot of trust was required from both sides but things always worked out. Finding girls in South Africa was a bit different, I relied more on friends of friends of friends.
Did your experience change or affirm any opinions you already had of South Africa?
The last time I visited SA was 2003 and that was with my mum. Everything was meticulously planned, we stayed with family and didn't venture off the beaten track. I don't think I spoke more than three words to a black or coloured * person. This time around I cooked and ate and sang and laughed and lived with black, white and coloured people.
The thing that struck me most was how alive with possibility South Africa is. I felt like there was an undeniable energy and buzz everywhere I went. It seemed like the country's future was being negotiated and renegotiated before my eyes. Most importantly, the experiences I had in South Africa this year taught me that taking the time to get to know someone and understand where they're coming from means there's no room for fear, negative assumptions or racism.
* please note than in South Africa the term "coloured" is not considered a racial insult. read more about the Coloured community here and here if you are confused, or ask in the comments.
18 year old Mpho lives in the Jouberton township near Klerksdorp in the north west province. We spent the day walking around her neighbourhood ("Everyone is staring at you," she said. "But don't worry, I'll be your bodyguard.")
I offered 18 year old Mpho some of my dried fruit/nut/seed mix. She wasn't keen. "Ew, no thanks!" This afternoon she offered me some of her chicken feet (aka 'runaways'). You can probably guess my response.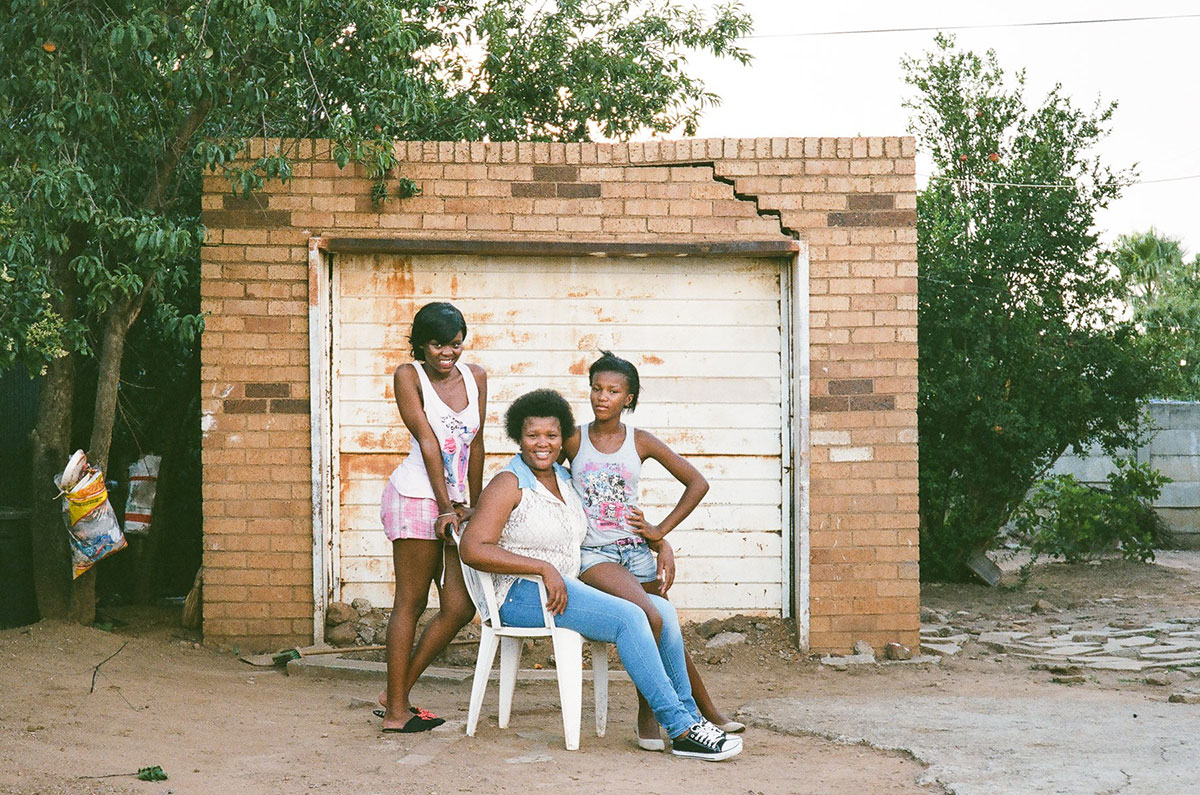 22 year old Nyameka and 13 year old Boikhutso with their mum, Charity. When I asked if I could take a photo in their back yard Charity suggested I shoot the girls climbing a peach tree but Nyameka wouldn't have it. "She only wants us to do that because she thinks it fits your image of a primitive black African girl," she explained to me. "But that's not what we do and not who we are. So no, I won't climb the tree for this photo."
Mpho and her friends Lebogang and Boikhutso. Lebogang is Mpho's best friend. They've grown up together in Jouberton. They both love music and have incredible singing voices. "Do you like Sia? What about Ellie Goulding? And London Grammar? Yes? Ahhh we're the same!" said an excited Mpho.
You mentioned in an Instagram post that some of the girls have troubling opinions on big issues like race & politics – do you think living & growing up in a small town (vs. a larger multi-cultural city) encourages these kind of opinions?
That was definitely my experience, yes. I grew up in a small town, went to university in a slightly bigger small town then got a job back in my home town. Racial, cultural and religious diversity was pretty much non-existent. Parents passed their views down to their children and there was little to challenge the status quo. I moved to Sydney (Australia's largest city) just over five years ago and it has been a super steep learning curve. For the last few years I've felt so behind in my understanding of the world – things like feminism, race, relationships, politics and mental illness.
My views on these issues have evolved considerably but I often wonder what I'd be thinking if I still lived at home in Grafton. When I met teenagers in Nieu-Bethesda and Graaff-Reinet, my left-leaning sensibilities were taken aback by their strong views on race and politics. But the truth is that 15 year old me would have agreed with them. I had to remind myself that they'll grow up, they'll be exposed to different opinions, they'll have new experiences, they'll change – or they won't.
Do you find that the girls have a lot in common with each other, despite their varied backgrounds?
Yes, this is one of the things that surprises and delights me over and over again. No matter where I go, I'm reminded that people are people and certain things are universal. Crushes, relating to parents/teachers/adults, independence, forming an identity, music…these things are important no matter where you're growing up.
On the bus to camp. Lorde's 'Pure Heroine' is blasting from the speakers but your best friend's shrieks are louder. KFC, chips, chocolate, lollies, soft drink – everyone's stuffing themselves and a selfie's snapped every second. Who sits where? Cool kids up the back, of course, and couples in the corner. You're 15 and staring down the barrel of two days at the beach without mom and dad. Right now, it doesn't get any better.
Are you still in touch with any of the girls, and have they seen the photos?
I'm in touch with all of them via social media/WhatsApp/email. It's really cool to watch their lives unfold and see how they're changing. Most of the girls have given me total control of the photos and they trust that I won't exploit them but I still want to show them the images we made. I've attempted to print a bunch of the photos and send them to each girl but I am so, so behind on that!
The longer I spend working on Small Town Girl the more I realise that it's about much more than the images anyway. I think it's really about relationships and connection. The camera is the key that gives me access to the girls' lives – it's my reason for being there – but the experiences we share, the things we learn from each other and the reciprocal understanding we gain is the real reason and purpose. The photos are just evidence.
When did you first pick up a camera & what led you to photo journalism?
My step-dad was a high school art teacher and converted our laundry to a dark room when I was about eight. At that age I was very interested in having my photo taken (so vain!) but didn't pick up a camera until I was about 19. My boyfriend at the time had a SLR camera and we took a photography course together at university. It grew and grew from there. A few years later a wedding photographer took me under his wing and and became my mentor.
In 2011 I spent three months in New York City studying photo journalism at the International Center of Photography. That's when I decided to focus on photo journalism/documentary photography. I decided I wanted to make aesthetically pleasing images that had both style and substance. I wanted people to be moved by my photos, to connect and learn and understand, but to also think 'Wow, the light in that shot is really nice!' I guess I'd describe my style as intimate and poetic.
13 year old Varoux lives on a dairy farm a few hours north of Cape Town. Nine families live and work here and form a tight little community. All the kids hang out and play together. They all speak Afrikaans and, reluctantly, English.
Varoux's mum plucks a goose while V, her friend Nadia and cousin Anique separate the feathers from the down. All the female workers spend three or four days plucking every goose on the farm and they're paid per bag of feathers/down. It's hard work so they're happy to get a helping hand from the kids and teenagers.
What kind of cameras do you use? Do you shoot everything with film?
I mainly use a Canon 1V and a Leica M6 – 35mm film cameras. If I'm shooting live music or a wedding I go digital but for everything else it's film. Film slows me down and forces me to get better technically – I can't afford to keep making the same mistakes! Film photos seem to have much more depth, authenticity and character. I reckon film's flaws, grain and texture are representative of my personality, too – nothing in my life is neat, polished or precise.
When I'm with the small town girls I save up all of my film and have it developed once I get home. It's hard to wait that long so I end up taking a lot of phone photos to share on Instagram, too. I think the Small Town Girl project exists as its own little Instagram community as well as a long term documentary project that will be exhibited in art galleries and made into a book.
Are there any other countries on your list that you would like to take the project?
I chose to shoot in Australia because that's where I grew up, South Africa because that's where I was supposed to grow up (my dad's an Afrikaner and mum's Australian but they separated when I was a baby) and the USA because that's the country/culture I idolised as a teenager. I like the idea of each country having personal significance as I feel that's what binds the project together. I think there are so many more girls to meet and stories to be told in these three countries so I'll stick with them a little longer. I'm definitely open to exploring other countries in the future.
13 year old Varoux meets up with her friends in the nearby settlement of Eendekuil after school. They hang out at the playground then walk from house to house, collecting more friends along the way.
What's next for Small Town Girl?
I've only photographed four girls in Australia so I'm going to stay close to home for a while. In November I'll be travelling to the Northern Territory to spend some time with Aboriginal girls who live in tiny, remote communities. Aboriginal and Torres Strait Islander people are some of Australia's earliest inhabitants but now make up just 3% of the country's population. I'm embarrassed to admit that I hardly know anything about Indigenous culture and I really want to change that. Many, many assumptions, sweeping statements and generalisations are made about Aboriginal people but few actually spend much time with the people they're talking about. I'm really keen to listen, learn and understand.
Over the next few months I'll also photograph teenage girls who've arrived in Australia as refugees from places like Syria, Sudan and Afghanistan and have been re-settled in small towns around the country. I'd like to push the project forward – dig a little deeper – and highlight some of the social, racial, cultural and educational issues facing teenage girls in small towns. Oh and I'll be back in South Africa next April! I can't wait for that.
Mpho and Elize in

Jouberton,

 February 2015