i have had a copy of this vintage Renault advert framed and hanging in my office for the longest time, and when i started researching this post about French textile designer Paule Marrot i had no idea of the connection between the two. Marrot grew up in Paris and attended L'école des Arts Décoratifs at the age of 14, eventually becoming an acclaimed textile designer by her mid-twenties – with friends & contemporaries like Raoul Dufy and Paul Poiret.
so as it turns out she had a significant hand to play in the creative design of the sweet Renault Dauphine. she wrote a letter to Renault's chairman basically saying that the cars of post-war Paris were a "uniformly somber parade" and that perhaps an artist like herself could help them find some fresh, vibrant colours…
and so they did, installing Marrot and her team in a test laboratory where they developed new body and interior colours – with cool names like Rouge Montijo, Jaune Bahamas, Bleu Hoggar and Blanc Réja. Marrot even did an apprenticeship in bodywork to make sure the colours translated correctly to the cars. she designed the complementary interior fabrics as well as the Dauphine's emblem of three dolphins over a crown. Marrot consulted for Renault from 1953-1965, and over 2 million Dauphines were produced in its production run of 10 years – each bearing her imprint.
Paule Marrot at the Renault Rueil Research Center, 1960
Colours & matching interiors of the Renault Dauphine, 1961
i originally started writing this post because of Marrot's beautiful prints and textiles. she was said to be widely influenced by Renoir, who was actually her family's neighbour during her childhood. after her studies she was working as a teacher and hand-printing her fabrics in her Montmartre studio when she won a gold medal at the International Exhibition of Modern Decorative and Industrial Arts in Paris in 1925 (where the term "Art Deco" made its debut). this allowed her to obtain a grant to open a modest shop on the rue de l'Arcade. here she taught, painted and sold her creations and entertained her many artist friends. She eventually found major success by exporting her fabrics to the US, and her work was admired by the British royal family, renowned NYC interior decorator Billy Baldwin, and Jackie Kennedy amongst others…
The famous Les Tulips textile that was so popular in the USA – Jackie Kennedy even designed an entire room in the White House around it.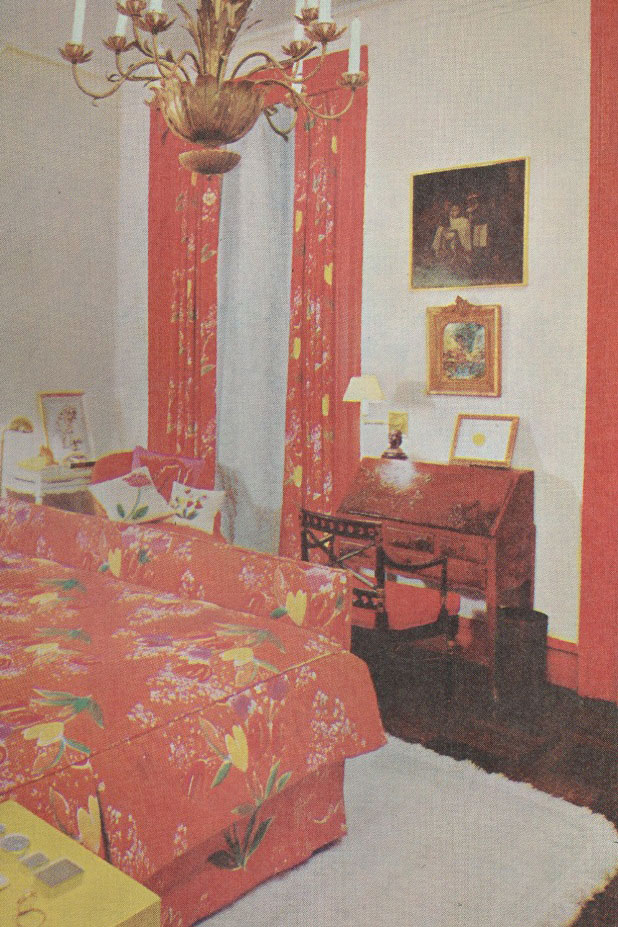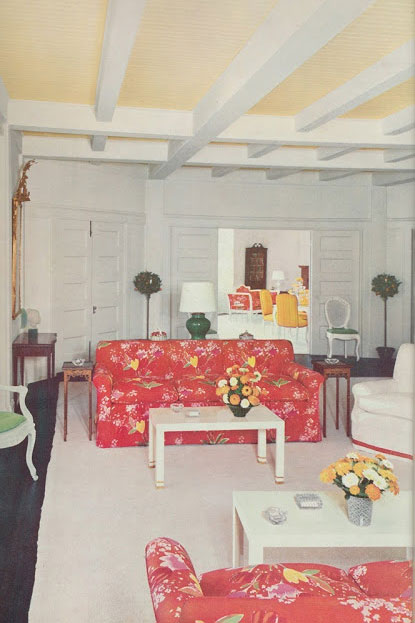 you can still buy her prints today here and here (naturally they don't come cheap!)