i wasn't planning on doing a post about this, but i received many requests after sharing our trip on instagram. if you want a short version just check out my IG story highlights – otherwise read on :)
it feels like every South African i follow on social media has been to Portugal recently. and there's a reason for that: it's a pretty affordable destination by European standards, AND you can get cheap and fast flights from Cape Town to Lisbon / Porto with TAAG via Angola. they are often half the price of any other international flights.
now that Axel was 2, and we felt comfortable leaving him with Anton's mom for a week or longer, it felt like the right time for us to go on a (very rare) overseas holiday again. and then we learned that we were expecting baby girl in November, and i was like "WE HAVE TO DO THIS NOW OR NEVER!!" so, i started investigating a quick in-and-out trip to Portugal…
Ideally i would do this trip over 2 weeks / 10 days but it is possible in a week, which is what we did (minus travel days). beaches and the countryside were not our priority in such a short space of time, so we decided just to stick to Lisbon & Porto. we love exploring cities, we are just those kind of people (we went to NYC for our honeymoon after all).
something else we didn't do was visit many historical sites. we went to one museum in Lisbon and one in Porto (both modern art museums). i DO love doing all those sight-seeing things usually, but because we had limited time we chose to walk around, make eating and drinking a priority, and just soak up the vibe. it was really about just experiencing both cities how we would as normal, child-free adults.
i'm going to break up the post talking about Lisbon and Porto, the places we visited and recommend, as well as places i was recommended that we couldn't make it to. if you have any questions (about our trip, travelling while pregnant, etc) then please ask in the comments. if you are from Portugal, or have been there recently, and would like to suggest any awesome places to see or restaurants that can't be missed please leave a comment as well!
i received SO many recommendations on Instagram and via email – so instead of typing them all out here i have put everything in a Google Docs file here. download, print, share and enjoy :) Also the best thing i did was to save both Lisbon and Porto in google maps for offline mode – helps you to find things when you don't have internet access.
and before you ask: i took ALL of these photos with my iPhone8 Plus and usually edited them with VSCO.
---
LISBON
ACCOMMODATION
we stayed in this airbnb in the Sao Bento area, which is on the border of Bairro Alto. we wanted a 2 bed, 2 bath apartment because we travelled with friends. i read a lot about which areas to stay in and people generally recommend Alfama, Baixa / Chiado and Bairro Alto. these are all very central areas, but we opted for Sao Bento as the apartment was very nice (with such good reviews!) and with a tram stop around the corner (the famous 28 Tram which takes you all the way across town to Alfama anyway).
the location was perfect for us, and very close to everywhere we wanted to be. we walked everywhere but used Uber and taxis a lot too. public transport is good too. as it turns out Sao Bento feels like an up-and-coming area with some cool shops and restaurants, so it was nice to be in a kind of unknown area. Lisbon is not big at all, so you can sort of stay anywhere and still be in the thick of things (or easily get there). the only thing is THE HILLS. the hills. my friends, i have never climbed so many stairs in my life.
if we had to go again i would stay in the Principe Real area. this was by far my favourite part of Lisbon.
FOOD
the food in Lisbon is fantastic, with many modern restaurants and of course tons of local offerings. i bookmarked an obscene number of places before we went and saved them to google maps so that i could easily access everything offline. take note that a lot of restaurants are closed on Mondays, and many are open strange hours – so always check the opening times before you head there. here are some places we visited and many more that were recommended to me that we didn't necessarily get to:
other places on my list that we didn't get to: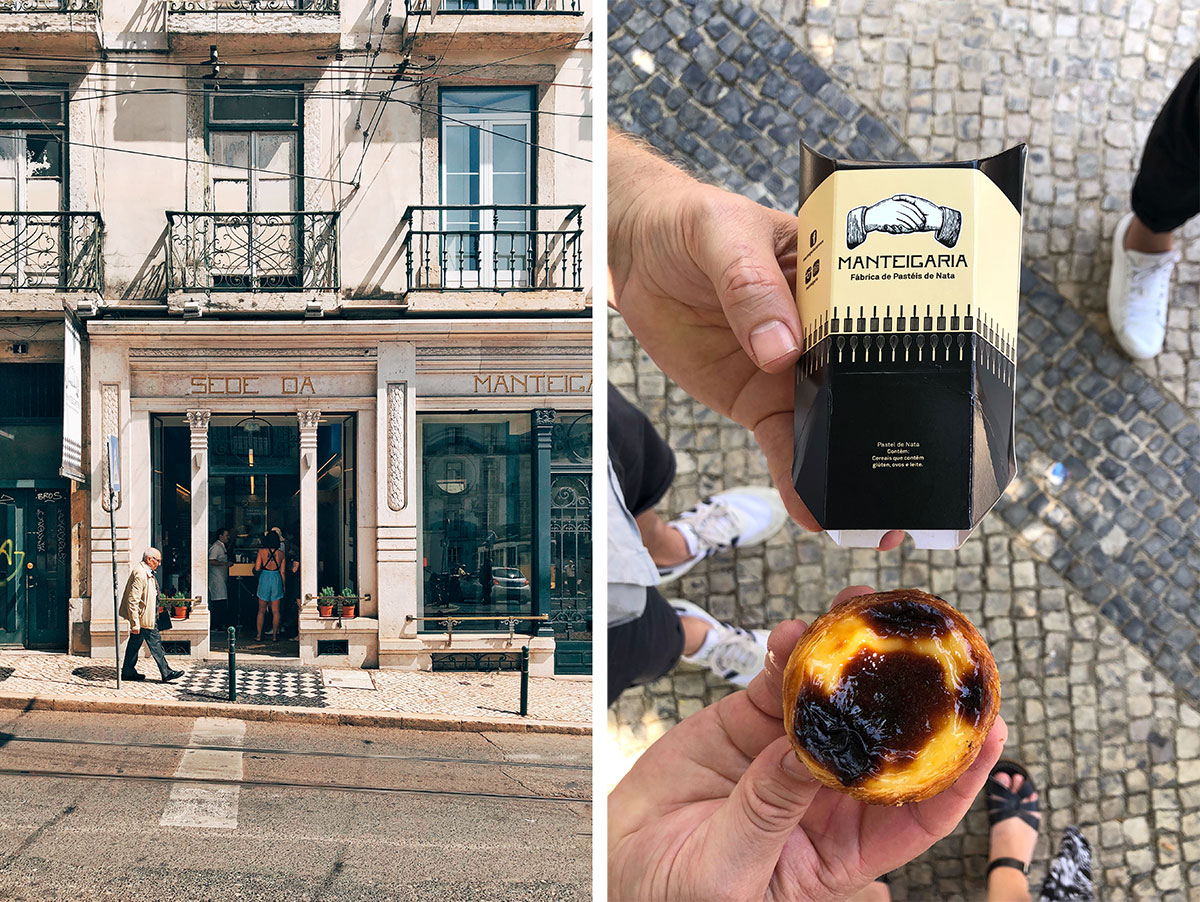 SHOPPING
i wasn't intending on doing any shopping while we were in Lisbon, just browsing. and there's a lot to browse! besides the usual Euro high street stores (which are always good, like Mango is a million times better than it ever was over here) there are some really fun local design shops in Lisbon and some "concept stores" that are nice to check out. i did end up buying some things, OF COURSE. especially from A Vida Portuguesa, was a total sucker for that place…
IN GENERAL
we were in Lisbon for 4 nights and i could easily have stayed for a week. i really loved the city more and more with each passing day. just like anywhere it would be fantastic to know a local to get inside tips of the best, secret places or even go on some kind of food tour. and the people are SO friendly.
there are many small and larger parks and Lisbon is known for their vintage kiosks that serve drinks – alcoholic and otherwise. if you go when the weather is warm i'd recommend wiling away an hour or two just watching the locals. i particularly liked the one in Principe Real (with a gelato shop just across the street, very handy).
as i mentioned Lisbon is all hills, so there are lots of awesome viewpoints dotted around the city. we actually paid to get into São Jorge Castle (despite our informal no museums rule) so that we could see the view.
the only museum i visited was MAAT (i honestly didn't love the exhibitions, but it's worthwhile to go see the building and walk along the promenade there – with an easy stroll to/from Belem). Anton went to the Navy museum in Belem which he said was great, if you're into that kind of thing. there's also the famous Tile Museum, and MUDE (Museum of Design and Fashion) and plenty others that are worthwhile to visit.
everybody and their uncle recommended doing a day trip to Cascais and Sintra. we just didn't have time in the end, but make a plan to do one or both if you're there.
ordering coffee: i usually have flat whites at home – the closest equivalent in Portugal is a meia de leite. don't make the mistake of ordering a cappuccino, which comes as a latte with powdered chocolate sprinkled on top (i hate super milky coffees so i was like YUCK). but a true local would have an espresso, of course.
most of the pavements are cobbled with beautiful stones that are often arranged into intricate mosaics, which are of course lovely to look at and appreciate. BUT years and years of pedestrians have worn them down to smooth, slippery surfaces and they can be HAZARDOUS to walk on – especially to a pregnant woman wearing sandals. i struggled sometimes and had to be super careful (holding onto walls and any railings i could find…). we were there in summer and it still drizzled some days, so it was like walking on an actual slippery slide. so make sure you take shoes that have good grip. there's my weirdest travel tip so far!
click the images below for larger versions
---
PORTO
we took the train from Lisbon to Porto (which was super easy: just download the CP app onto your phone and book your trip online). the trip is 3 hours long and goes through the countryside and along the coast a little bit on the way – there's some nice scenery to enjoy.
ACCOMMODATION
Porto is also pretty small and very walkable (more so than Lisbon, but also beware of THE HILLS) so i reckon you can stay pretty much anywhere close to the center and you'd be fine. we stayed in this 2 bed, 2 bath Airbnb apartment in the east of the city, near Batalha square. it was truly fantastic and the hosts are SO nice. beautifully decorated, quiet and perfectly located.
IN GENERAL
my list of tips about Porto is much shorter because we were only there for 2 full days and we sort of accidentally planned our trip there on the busiest and craziest weekend of the year: the festival of São João. it was really fun and we were lucky to experience it, but consequently our time in Porto was filled with tourists and jam-packed with locals during the festival. also by the end of the week i had become seriously ~pregnancy tired~ and so we just casually took in the sights more than anything else before heading home.
some highlights:
i don't have very many tips for you about Porto besides that it is a beautiful little city on the water, crumbling in many places and quite different from Lisbon – just walk around, go on a boat tour, walk along the river and across one of the bridges, taste some port and take it all in…if i could do it again i'd try to stay for longer, and head out of the very central tourist areas – the outer reaches of Porto seemed quite interesting, and i know there is a cool, young designey vibe in the city that we didn't really get to experience. try to make friends with a local! here's a good guide.
here are some other places recommended to me that we didn't get around to: