i've always wanted to do some kind of home tour here, and although i regularly share snippets of our home on Instagram i never really got round to do a concerted photoshoot effort. but since we just put our house on the market i thought it was a good time to finally share some pics. i have mixed emotions about leaving our beloved home – this was our first proper house that we bought together as a married couple (with a garden!) and the place we brought our babies home to. ALSO we put a lot of work into it – as you will see below…
i can remember when i saw the listing for this house when it came on the market for the first time and i instantly said to Anton "we have to go see it."  i didn't even think we would end up buying, as it was out of our price range. but Cape Town was experiencing a property boom at the time, and when we sold Anton's flat in Sea Point it allowed us to level up to this house. you will see though, by the pictures, that it was in a pretty weird state before we moved in. but all i could see were the wooden floors, the high ceilings and the fact that structurally the house had not been altered since it was built back in the thirties. weird decor is one thing, but ripping up wooden floors and replacing them with tiles is what most people in this neighbourhood end up doing to these grand old houses – and luckily she had not changed much (besides some questionable paint choices).
The Kitchen
we painted everything white including the green tiles & the cupboards. we had the counter tops replaced with some post-form fake wooden counters (as we did not want to spend a lot of money on a proper kitchen redo) and installed a kitchen nook as this is actually one of the sunniest rooms. i also replaced the hardware on the cupboards which made a big difference at a small cost. also, cheap shelving!
The Dining & Lounge
we basically just painted everything white, removed the interleading doors between these rooms (they were sort of like screen doors – which i didn't hate, but they didn't close properly) and replaced the light fixtures. what a difference… oh and we installed a cast-iron wood burning fireplace which is just THE BEST.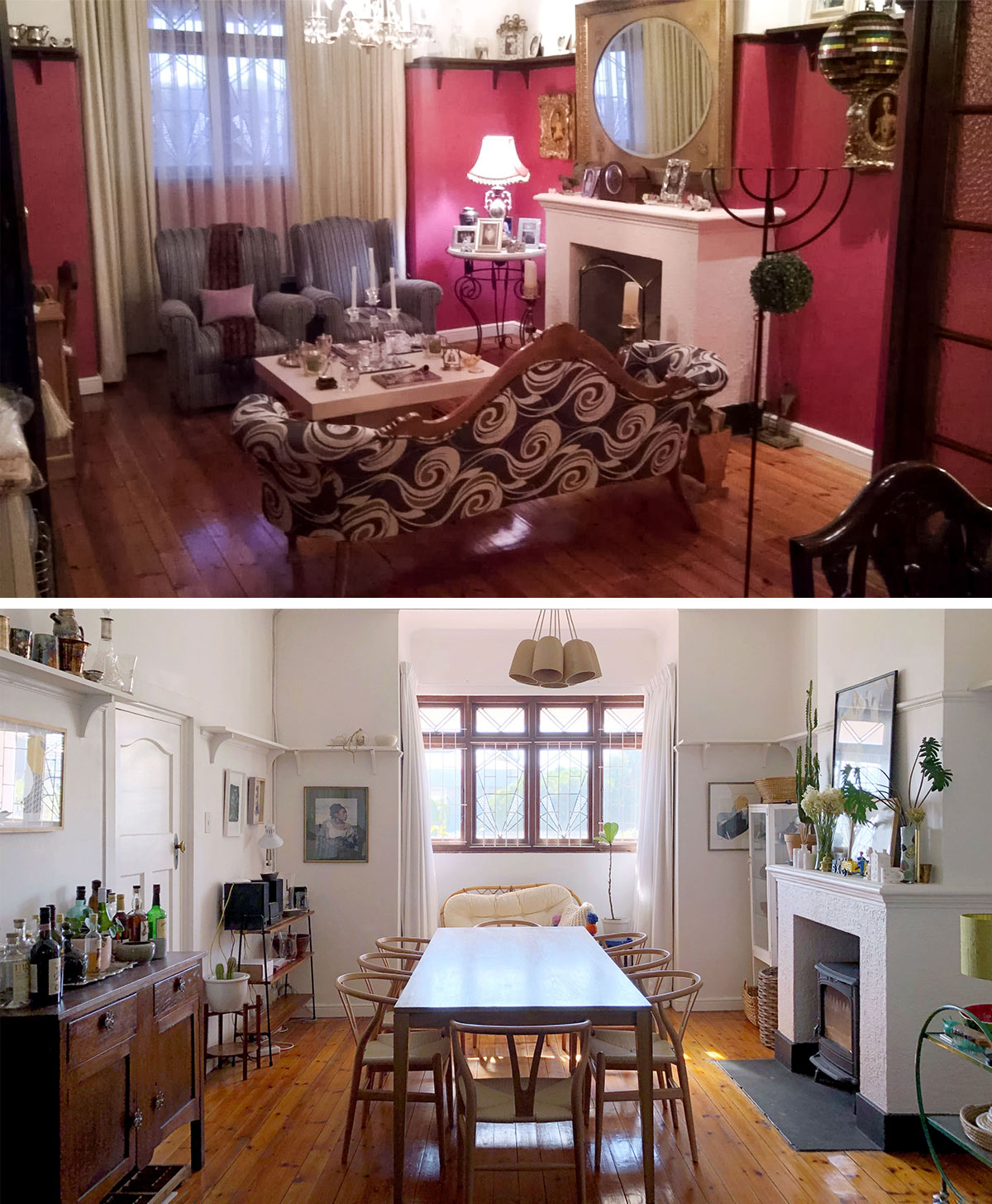 The Bedrooms
this was really just a matter of painting, installing built-in cupboards and changing the furniture. one of the bedrooms is not pictured (it's actually used as an office now which isn't super interesting and mostly just kind of messy)
The Bathroom
we redid the entire bathroom after living in the house for about a year. it was one of our biggest projects and had to be done – there was a leak in the wall and mushrooms were growing out from between the tiles….! since i took these pics we actually put a much nicer mirror up above the bathroom vanity.
Upstairs
this area was super weird as they used it as an extra bedroom – we changed it to a play room slash office slash tv room… we just hang out up here basically. we changed the big sliding doors to a safer large window (so that you can still see the view) and MOST IMPORTANTLY removed the throne-like toilet and shower situation.
Hallway & Staircase
this whole area was just kind of insane before. i think i had decor PTSD and so just kept everything very simple.
Outside
we actually ended up doing quite a big landscaping job because we wanted to utilise the backyard more. the grass was in a bad state and since we were experiencing such a bad drought it made sense to install fake grass and lots of succulents that didn't require any watering. it's safe to say that it's a much more inviting space!