i used to make really excellent gift guides, if i do say so myself. so i am putting together an ad-hoc list of online things that are just nice, and if you like some of these things then feel free to buy them for someone – or yourself?? or send this list to someone as a huge hint. i think hints are always good.
PS This is a mixed bag of some South African, some European and some US shops.
A fancy candle
kicking off with the range of candles by Stokperd (and photography by me..! Flower styling by Belinda Soboil) Monya has created three scents inspired by rain, sunlight and the act of walking on tiptoes across warm sand… You can also buy them at Poetry.
A nice smell
I mean i could go on and on about perfumes, but honestly it's always a good idea to surprise someone with a lovely unexpected scent. I love the vibe of these perfumes by Izola, and you can also buy smaller roll-on versions that aren't as pricey. I like the sound of 1933 Kouroupia "As Naxos appears through the mirage haze you're overcome with the scent of the dry baked cedar, lavender and wild thyme from it's indigenous ancient forest". They also have home fragrances and skincare and other lovely sounding things.
Nuxe
Do you know what else is my favourite smell in the world? Nuxe Huile Prodigieuse and also the perfume. I can slather myself in this stuff. If you combine them your head will literally explode from happiness. (The floral version is good, too).
A board game
perhaps a little known fact about me is that i love all manner of board and card games, i am quietly competitive and will also destroy you. jk jk, i just love playing! what a great way to get people together ;)
my all time favourite games are Monopoly Deal, Ticket to Ride (all variations, but the European version is superior), Yahtzee (you just need some dice and a scoresheet), Trivial Pursuit Bet You Know It (this is the best and funnest version of trivial pursuit). we also love Pandemic The Cure (very tough!) and Jaws (also tough, but fun!) and most recently BANG! which is a quick, fun game and easy to learn.
anyway, if you're into games too then have a look at this beautiful vintage version of Monopoly at Anthropologie. i personally love Monopoly even though it has a bad rep (when you lose you lose HARD) – but they also have some other cool old school games like Scrabble and Cluedo. Galison also has excellent games.
Something fun…
I mean, it's a cute bag: check and it's for your bread: check. what's not to love? They are made by La Veste.
I love (bread) lamp. They have so many different kinds. A croissant! A baguette! A slice of toast!
Something for their table
Love this new hand printed napkin collection from Willowship and Kate Arends.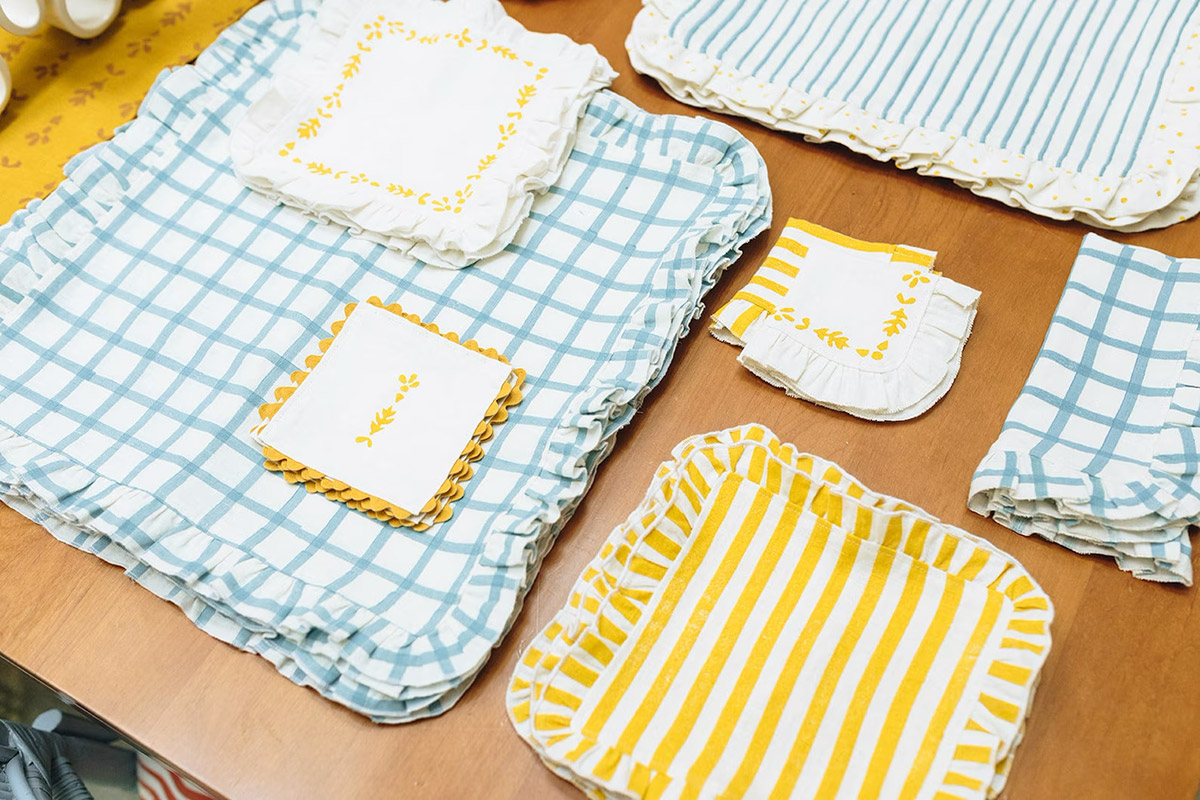 A ring set for the afore-mentioned napkins by Dada
you wouldn't help but smile every time you take a sip
ALL the plates by Round House, btu especially the Italian and Seafood collections
"traditional Japanese candles made with oil from Nanohana flowers – a small, yellow blossom found on Noto Island"
Look, I would buy this based on branding alone – but honestly if someone gifted me an entire set of shampoo, conditioner and other lovely washing things I'd be thrilled.
It's insulated and comes in tons of colours and prints – I'd use it just as a regular bag tbh! cute.
A woven blanket, for adventures
i feel like this is a general crowd pleaser, cause they can be used by outdoorsy people or by anyone who just likes chilling on the beach having sundowners. win win. i also think that quality matters here – we have some woven blankets that have lasted us years and years and just get better with age. here are some nice options:
This is technically a "dog blanket", but honestly i love them so much i would easily use them at the beach instead (or even on my couch). they come in four colour ways. Mungo does of course have loads of other blankets or towels that would also fit the bill.
the Paseo blanket (paseo means "to stroll" in Spanish) also comes with a leather carry strap, so it's super convenient for outdoor adventures. they are so cool, i wish they came in rug size.